D4 Random Dungeon Encounters
A group of 1d4+4 orcs are playing a game of chance where they roll two d20s and bet on which one rolls higher than the other one. Players can join in on the game and if they win, they can take whatever the orcs have won from them. If players try to cheat or steal from them, they will be attacked.


You see a group of 1d4+4 dwarves and 2 humans led by a dwarf named Grimbard. The dwarves and humans are on their way to a nearby dwarven fortress, hoping to warn their kinsmen about an incoming goblin horde.


The sound of rushing water can be heard through the door. The sound is faint, but there is definitely something going on in the next room.


The players find a large cavern with a pool of water in the center. A mermaid is lounging on the rocks by the pool. She will offer to tell the players one of three stories:


Generated by GPT-3 and lightly edited by a human.
New GPT-3 AI Dungeon Generator is LIVE at LitRPG Adventures!
Read more about my random dungeon generator over at the LitRPG Reads blog!
Random Encounter Tables RPG Book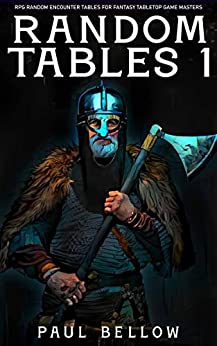 I have a seperate collection of unique RPG random encounter tables (and more) for fantasy tabletop RPG campaigns available now at Amazon as an ebook or softcover...
Get this Random Tables Book at Amazon and help support me creating more FREE RPG tools. Thanks!
About Random Encounters AI
Hello. I'm Paul Bellow, a LitRPG author and creator of this site with 1000's of Free D&D Random Encounters. I also run LitRPG Adventures, a set of advanced RPG generators and a growing library of RPG content generated by GPT-3 API from OpenAI. If you want to learn more about how I put thistogether, I've got a blog post about creating this D&D random encounter generator.
Thanks for checking out the site. I hope you find it useful!