D4 Random Desert Encounters
A group of merchants are transporting a load of goods. They are transporting spices, silk, and gems. Players can buy the goods for cheap if they talk to the merchants.


A group of bandits is raiding a trading post. The bandits are armed with bows, arrows, and swords.


A group of 2d6 bandits are robbing a merchant caravan. The merchant caravan has 1d4+3 guards that are fighting back. The merchants have 1d6+3 wagons full of treasure and valuables. The wagons are heavily armored. The merchants will pay well if the players help them.


The body of a dead gnoll is lying in the path. The gnoll has recently been killed by a group of bandits from a nearby village.


Generated by GPT-3 and lightly edited by a human.
New GPT-3 AI Dungeon Generator is LIVE at LitRPG Adventures!
Read more about my random dungeon generator over at the LitRPG Reads blog!
Random Encounter Tables RPG Book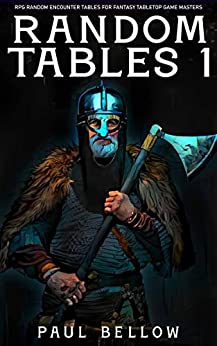 I have a seperate collection of unique RPG random encounter tables (and more) for fantasy tabletop RPG campaigns available now at Amazon as an ebook or softcover...
Get this Random Tables Book at Amazon and help support me creating more FREE RPG tools. Thanks!
About Random Encounters AI
Hello. I'm Paul Bellow, a LitRPG author and creator of this site with 1000's of Free D&D Random Encounters. I also run LitRPG Adventures, a set of advanced RPG generators and a growing library of RPG content generated by GPT-3 API from OpenAI. If you want to learn more about how I put thistogether, I've got a blog post about creating this D&D random encounter generator.
Thanks for checking out the site. I hope you find it useful!