D1 Random Crypt Encounters
Players come across a room where a man who is wearing a red robe is sitting in a chair. The man is drinking wine from a goblet. If players talk to him, he will say 'I am the red wizard. I have come to this crypt to await the coming of the Vampire Lord. Are you here to stop me?'


A group of 2d6 ghouls are shuffling along this area, looking for living creatures to attack and eat.


An ooze attacks!


A group of 3 giant spiders attack from behind.


The players hear a low, throaty growl coming from one of the tombs. They see a dim light coming from the tomb. If they investigate, they will find a werewolf, who has recently transformed and is still weak. He will beg the players to kill him.


The party comes to a room with several small statues of a strange god. If the players touch them, they will animate and attack.


The party sees a group of three men approaching them. The men are dressed as priests and are carrying a large wooden box. The men approach the party and ask them to help them find the whereabouts of an escaped prisoner who is hiding out in the cemetery. This is a ruse to get the party to follow them to the vampire's tomb, where they will be attacked by the vampire and his minions.


The party sees a door on one side of the hallway. The door has a sign on it that says 'Danger: Keep Out!'


The party hears a noise behind them. When they turn around, they see nothing. When they turn back around, a ghoul is standing there and attacks!


A man is running away from a group of zombies. He is carrying a coffin filled with treasure.


Generated by GPT-3 and lightly edited by a human.
About Random Crypt Encounters AI
Hello. I'm Paul Bellow, a LitRPG author and creator of this site with 1000's of Free D&D Random Encounters. I also run LitRPG Adventures, a set of advanced RPG generators and a growing library of RPG content generated by GPT-3 API from OpenAI. If you want to learn more about how I put thistogether, I've got a blog post about creating this D&D random encounter generator.
Thanks for checking out the site. I hope you find it useful!
Random Encounter Tables RPG Book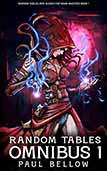 I have a seperate collection of unique RPG random encounter tables (and more) for fantasy tabletop RPG campaigns available now at Amazon as an ebook, softcover, or hardcover book and contains the following...
Items Found In Places
Random Encounters
NPCs
Character, City, and Dungeon Names
Get it at Amazon and help support me creating more FREE RPG tools. Thanks!