D1 Random Fortress Encounters
A group of 1d4+3 dwarves are sitting around a table drinking and playing dice. They are members of a dwarven mercenary company that was hired by the king of the fortress to defend it.


A group of men are selling cheap jewelry to the players. The jewelry is actually very cheap, but the men selling it are doing so with a very confident attitude and will not take no for an answer.


The players see a group of 2d6 human soldiers marching through the hall, looking for a place to hide from a group of orcs that are chasing them.


The sound of men chanting can be heard in the distance. The party can see a group of men and women in robes walking towards them. The group is chanting, 'Blood for the blood god.'


A group of merchants are selling weapons and armor. They are actually thieves in disguise. They will try to rob any player characters who look like easy targets.


Players see a group of men in robes dancing. They are members of the Cult of the Dancing Demon.


A group of men are standing around talking about how they have to fight off an attack by a nearby tribe of goblins, orcs, etc.


A group of half-elven children are playing tag in front of the gates of the fortress.


The players hear arguing coming from somewhere nearby. If they investigate, they will find a group of elves and humans arguing with each other about which race is better.


A group of 2d6 wizards are experimenting with magical potions in the courtyard. They will offer to sell the players a vial of magic potion for 5 gp. It is a Potion of Leaping.


Generated by GPT-3 and lightly edited by a human.
About Random Fortress Encounters AI
Hello. I'm Paul Bellow, a LitRPG author and creator of this site with 1000's of Free D&D Random Encounters. I also run LitRPG Adventures, a set of advanced RPG generators and a growing library of RPG content generated by GPT-3 API from OpenAI. If you want to learn more about how I put thistogether, I've got a blog post about creating this D&D random encounter generator.
Thanks for checking out the site. I hope you find it useful!
Random Encounter Tables RPG Book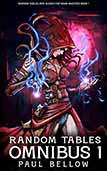 I have a seperate collection of unique RPG random encounter tables (and more) for fantasy tabletop RPG campaigns available now at Amazon as an ebook, softcover, or hardcover book and contains the following...
Items Found In Places
Random Encounters
NPCs
Character, City, and Dungeon Names
Get it at Amazon and help support me creating more FREE RPG tools. Thanks!