D4 Random Dungeon Encounters
The players notice a group of 2d6+2 goblins. One of them is riding a giant lizzard. The goblins will attack the players because they are not wearing the proper uniform that identifies them as members of the local goblin tribe.


The air smells of rotting meat and blood. A group of 4d4 armed men are drinking and celebrating a win. They are drunk and will attack.


An old man is sitting on the ground. He is wearing rags and he is dirty and scabby. If the players talk to him, he will ask for help. If the players help him, he will tell them about the 'evil underground cult that is kidnapping people' and then he will try to rob them.


A group of 3d4 gnolls are fighting with a group of 2d4 goblins in a room.


Generated by GPT-3 and lightly edited by a human.
New Dungeon Generator is now LIVE at LitRPG Adventures!
>
Random Dungeon Encounter Ideas Books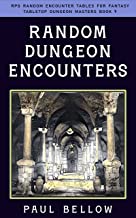 I have an ebook and print copy of 500 random dungeon encounters that is available now at Amazon as an ebook or softcover print and contains the following DM goodness inside...
Random Dungeon Encounters x 500
Adventure NPCs x 50
Gnome and Centaur Names x 20 each
Dungeon and City Names x 20 each
Get it at Amazon and help support me creating more FREE RPG tools. Thanks!
About Random Encounters AI
I'm Paul Bellow, a LitRPG author and creator of this site. I also run LitRPG Adventures, a set of advanced AI RPG generators and a growing library of RPG tabletop content generated by GPT-3 API from OpenAI. If you want to learn more about how I put thistogether, I've got a blog post about creating a D&D random encounter generator with an advanced language model neural net. Don't worry, I don't get too technical!
Thanks for checking out the site. I hope you find it useful!