D1 Random Elemental Plane of Earth Encounters
A tribe of goblins emerge from the ground, then retreat back down into their holes when they see the party.


A hill opens up in front of you. 2d6 goblins yelling "SURRENDER! WE MUST HAVE YOUR GOLD!"


Stone giants!


A group of 2d6 humans is walking toward the mountain. They are carrying sacks filled with grains and vegetables. They are going to the market to sell their goods.


A rock opens up in front of you. A large hill giant steps out.


A group of men are standing around, talking about the recent increase in goblin activity in the area. They mention that the goblins have been attacking farmers and stealing their food.


Goblins - The party sees a group of four goblins, they are sitting around a small campfire.


A group of hunters is sitting by a small fire. They are talking about their kill.


The ground begins to rumble and a giant (2d20 HD) appears from the ground in front of the party. He is made of stone, and his name is 'Rocky'. He will say 'Hey, you stuck up punks, you're not better than me, you're just lucky'. He then attacks the party because his little brother was killed by a sorcerer adventurer 1 week ago. If players vow to hunt him down and bring back his head, they will be rewarded by Rocky.


A group of human barbarians are drinking and celebrating their latest victory over a rival tribe. They are spied upon by a group of kobolds.


Generated by GPT-3 and lightly edited by a human.
About Random Elemental Plane of Earth Encounters AI
Hello. I'm Paul Bellow, a LitRPG author and creator of this site with 1000's of Free D&D Random Encounters. I also run LitRPG Adventures, a set of advanced RPG generators and a growing library of RPG content generated by GPT-3 API from OpenAI. If you want to learn more about how I put thistogether, I've got a blog post about creating this D&D random encounter generator.
Thanks for checking out the site. I hope you find it useful!
Random Encounter Tables RPG Book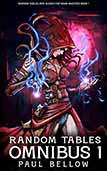 I have a seperate collection of unique RPG random encounter tables (and more) for fantasy tabletop RPG campaigns available now at Amazon as an ebook, softcover, or hardcover book and contains the following...
Items Found In Places
Random Encounters
NPCs
Character, City, and Dungeon Names
Get it at Amazon and help support me creating more FREE RPG tools. Thanks!