D1 Random Elemental Plane of Earth Encounters
You see a giant caterpillar slowly making its way across the plains. Its body is covered with strange symbols that seem to pulse with power.


The party hears a loud crashing sound in the distance. Moments later, they hear a second loud crashing sound. The second crashing sound is slightly louder than the first crashing sound. The sounds are getting closer together as they hear them. The party sees a hill on the horizon that looks like it is on fire. It is a hill of 2-D goblins running toward them. They will get very close before turning around and running back towards their hill. These goblins are trying to escape the goblins that are 2-D and chasing them back to their hill.


The party will see a group of 6 goblins on horseback, they are headed to a village


The adventurers find a gargantuan statue of an unknown god that is slowly coming to life.


A pack of carnivorous creatures, made out of rock, are attacking a group of small, defenseless creatures.


You will see a group of 1d4 barbarians, they are hunting for village cattle.


A merchant caravan transporting goods from a nearby city has been set upon by bandits. The party sees the battle, and can choose to help the merchants or the bandits.


The party walks through a random rock wall and enters a small cave. The cave has a small pool of water in the center. A group of 2d6+4 water elementals are swimming in the pool. They will attack the party if they're attacked first.


The adventurers come across a strange laboratory run by a mad mage and his creations.


A group of dwarves riding worgs and leading an enormous stone dragon.


Generated by GPT-3 and lightly edited by a human.
About Random Elemental Plane of Earth Encounters AI
Hello. I'm Paul Bellow, a LitRPG author and creator of this site with 1000's of Free D&D Random Encounters. I also run LitRPG Adventures, a set of advanced RPG generators and a growing library of RPG content generated by GPT-3 API from OpenAI. If you want to learn more about how I put thistogether, I've got a blog post about creating this D&D random encounter generator.
Thanks for checking out the site. I hope you find it useful!
Random Encounter Tables RPG Book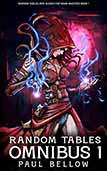 I have a seperate collection of unique RPG random encounter tables (and more) for fantasy tabletop RPG campaigns available now at Amazon as an ebook, softcover, or hardcover book and contains the following...
Items Found In Places
Random Encounters
NPCs
Character, City, and Dungeon Names
Get it at Amazon and help support me creating more FREE RPG tools. Thanks!