D1 Random City Encounters
A woman is walking around with a babydoll on her arm. If anyone gets too close to her or the babydoll, she will shout, 'Stay back! It's alive! It's alive!'


A young woman is walking down the street, singing a song about the dragon she is in love with.


Two men are fighting over a gold coin that's covered in blood.


A group of children are playing a game of hide-and-seek in an alley. If players join in, they will notice that one child is missing and is hiding in a barrel nearby.


A man is selling gloves that he says will make the wearer's hands invisible for one hour when worn. He says they were made by a wizard in the city and he found them in an abandoned dungeon nearby. He wants 100GP for each glove and he has 6 pairs.


A man is walking around wearing a cloak that has a bunch of bells sewn into its hem. If anyone gets too close to him or his cloak, he will shout, 'Stay back! I'm armed and dangerous!'


A group of children are playing with a ball and get into a fight. A woman comes out of her house and yells at them to stop fighting or she will beat them all up. She is holding a wooden spoon and looks like she means business!


A group of children playing in the street. They are singing about how much they love the king.


A group of people are gathered around a fire, telling stories about dragons and giants. One of the stories is about a dragon that has been terrorizing the city recently.


A group of men are gathered around a barrel of wine, celebrating their latest victory.


Generated by GPT-3 and lightly edited by a human.
About Random City Encounters AI
Hello. I'm Paul Bellow, a LitRPG author and creator of this site with 1000's of Free D&D Random Encounters. I also run LitRPG Adventures, a set of advanced RPG generators and a growing library of RPG content generated by GPT-3 API from OpenAI. If you want to learn more about how I put thistogether, I've got a blog post about creating this D&D random encounter generator.
Thanks for checking out the site. I hope you find it useful!
Random Encounter Tables RPG Book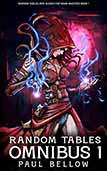 I have a seperate collection of unique RPG random encounter tables (and more) for fantasy tabletop RPG campaigns available now at Amazon as an ebook, softcover, or hardcover book and contains the following...
Items Found In Places
Random Encounters
NPCs
Character, City, and Dungeon Names
Get it at Amazon and help support me creating more FREE RPG tools. Thanks!