D1 Random Cave Encounters
The air here is filled with a pungent odor of something foul. The smell is so bad that it makes PCs nauseous and causes them to lose 2 points of strength. A group of 10+ bats fly out of a nearby crack in the wall and attack the PCs.


The passage opens into a small cave, in which a group of 1d4+2 goblins are hiding from a foul-smelling cloud caused by a nearby dead body. The goblins will offer information about the nearby area if players investigate the body; it's been dead for several months, but hasn't started to rot yet because it's been kept cool by a nearby underground spring.


The players hear a rumbling noise. A boulder rolls down the hallway toward them.


A group of 2d6 kobolds are trying to drag one of their fallen comrades back to their lair. If players interfere, they will attack!


A group of 3d4 orcs are hunting for food, they are hunting a pack of 1d4+2 wolves that are hunting for prey themselves, they could run into each other, and players could join in with either one or choose to sneak around and ignore them both, either way is fine as long as it makes sense and isn't too forced.


A group of adventurers come across a group of 1d4 hobgoblins. The hobgoblins are led by a hobgoblin cleric. The hobgoblins are hunting a pack of wolves.


Players come across a large room. Vines hang from the ceiling and walls. The vines are covered in thorns. If anyone touches them, they will take 1d20 damage from the thorns.


A group of 1d8 rangers are camping at the bottom of the path. They are looking for the source of the spiders. They will trade information with the players, then go on their way.


A single set of footprints leads up to a small hill in the area. If players investigate the hill, they find a small cave opening that is covered by leaves and debris. Inside that cave is a small stone chest with a large lock on it. Inside that chest is a large amount of gems worth 10d10 gold pieces each.


A group of adventurers come across a group of 1d4 gnolls. The gnolls are led by a gnoll shaman. The gnolls are hunting a pack of wolves.


Generated by GPT-3 and lightly edited by a human.
About Random Cave Encounters AI
Hello. I'm Paul Bellow, a LitRPG author and creator of this site with 1000's of Free D&D random cave encounter ideas. I also run LitRPG Adventures, a set of advanced RPG generators and a growing library of RPG content generated by GPT-3 API from OpenAI. If you want to learn more about how I put thistogether, I've got a blog post about creating this D&D random encounter generator.
Thanks for checking out the site. I hope you find it useful! My goal is to make the life of the DM easier!
Bonus Quest: Random Encounter Tables RPG Book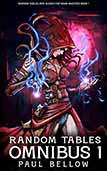 I have a seperate collection of unique RPG random encounter tables (and more) for fantasy tabletop RPG campaigns available now at Amazon as an ebook, softcover, or hardcover book and contains the following...
Items Found In Places
Random Encounters
NPCs
Character, City, and Dungeon Names
Get it at Amazon and help support me creating more FREE RPG tools. Thanks!